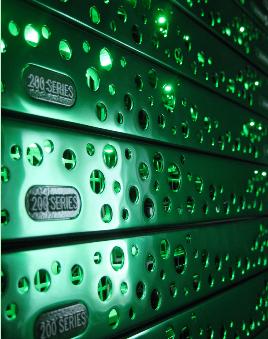 Elemental Server
Elemental Server is a file-based video processing system that provides fast and reliable video transcoding for broadcast and multiscreen video applications.
File-To-File Video Processing System
Elemental Server is a file-based video processing system that provides fast and reliable video transcoding for broadcast and multiscreen video applications. The system merges the performance benefits of massively parallel hardware with the flexibility and forward compatibility of intelligent software to supply unmatched density and throughput for video compression. Elemental Server delivers simultaneous, faster-than-real-time conversion of HD and SD content for an array of devices including TVs, set-top boxes, PCs, tablets and mobile phones. Ideal for content producers, distributors and service providers with large-scale transcoding and video on-demand applications, Elemental Server is easy to install, configure and integrate into new media, broadcast and post-production workflows.
Experience The Benefits
High Performance
Multiply video content for rapid delivery to any screen, anytime, all at once. Accelerate video and audio compression through the power of parallel processing for delivery to non-linear editing software, set-top boxes and multiscreen devices.
Versatile Design
ngest, encode and package multiple video inputs, outputs and adaptive bit rate protocols simultaneously, all from a single system. Off-the-shelf hardware and flexible software allow for rapid optimization of existing codecs and support for new video delivery standards including DASH, Ultraviolet and ultra high-definition formats.
Ease of Management
An intuitive web-based interface provides a streamlined user experience and enables a simplified workflow. REST/XML APIs and a Linux-based operating system allow for quick and easy integration of Elemental Server into existing workflows for reduced management overhead.
Media Multiplied
l

Deliver video to any screen, at any time, all at once – with a single system


l

Generate multiple simultaneous outputs for fast content production and distribution


l

Integrate seamlessly with production equipment, saving time and resources


l

Lower operating costs with a reduced harware footprint

Why Elemental Server 
Universal Input Support
Flexible support available for all common broadcast, editing and user generated content formats.
High Density Transcoding
Transcode with unprecedented speed and throughput. Convert and output up to twelve independent high definition or 32 independent mobile video files in fasterthan- real-time. Simultaneously output hundreds of files formatted for multiple target devices with a single system.
Uncompromised Video Quality
Deliver the highest quality encoding using customized codecs including ProRes, H.264, VC-1 and MPEG-2. Computeintensive video processing functions such as motion adaptive deinterlacing, MPEG- 2 deblocking and temporal frame rate conversion are optimized for the latest parallel architectures.
Efficient Audio Processing
ntelligent audio muxing allows independent audio channels to be combined with a single video stream to create unique outputs without additional processing cost.
Produce Multiple Outputs
Create multiple resolution, bit rate and output formats targeting a variety of players and platforms, including support for adaptive streaming content such as Microsoft Silverlight, Adobe Flash and Apple devices. Wrap content in popular containers including F4V, 3GP, ASF/WMV, MP4 and MPEG-2 for maximum workflow efficiency.
Reduce Management Overhead
Use REST/XML APIs or the web-based interface to simplify tasks such as system setup, workflow integration and job queuing, scheduling and prioritization. Consolidate and streamline transcoding operations by replacing multiple existing systems with Elemental Server.
Scalable, Reliable Architecture
Scale server farms easily by combining multiple Elemental Server units in a shared job queue that automatically distributes encoding tasks. Deliver high reliability with a fully redundant job scheduler for automatic failover between multiple systems.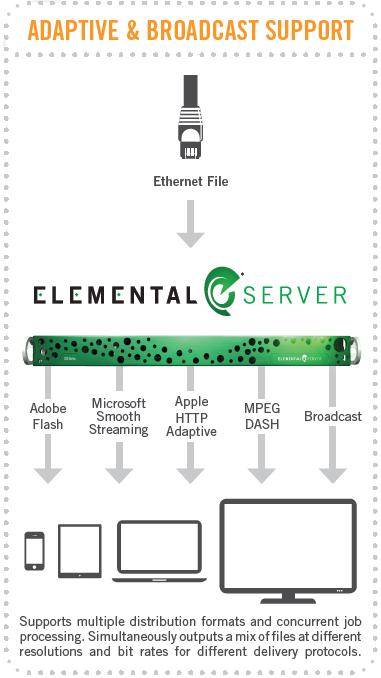 Specifications