Elemental Live
Elemental Live is a video processing system that provides content producers and distributors with video and audio encoding for live streaming to new media platforms.
Video Processing System For Live Streaming
Elemental Live is a video processing system that provides content producers and distributors with video and audio encoding for live streaming to new media platforms. The system merges the benefits of massively parallel hardware with the flexibility and forward compatibility of intelligent software, delivering unmatched price/performance for video compression. With unprecedented density, Elemental Live executes simultaneous processing and encoding of multiple adaptive bit rate outputs, delivering the high-quality, high-efficiency performance required for streaming live video to any device. An intuitive web-based interface simplifies workflow, exposes realtime controls for event management, and provides one-click access to popular content delivery networks. A single Elemental Live system can perform the workof more than four CPU-only encoders, eliminating configuration complexity, optimizing multiscreen video delivery and reducing total cost of ownership.
Experience The Benefits
High Efficiency
Deliver full adaptive bit rate streams with a smaller footprint, lower power consumption and reduced cooling requirements. Perform real-time encoding of up to six simultaneous 1080p streams, output up to twelve 720p streams, or create multiple adaptive streaming outputs with a single system.
Ease of Management
An intuitive web-based interface provides a streamlined user experience and enables a simplified workflow. REST/XML APIs and a Linux-based operating system allow for quick and easy integration of Elemental Live into existing workflows for reduced management overhead.
Fast Return on Investment
Shorter ramp to content, quicker time to revenue, lowest operating expense to run – and future ready for new technologies. Elemental Live makes it easier and less expensive for content providers to connect with content delivery networks and deliver the high quality video streams that end users expect.
Media Multiplied
l Create all the renditions required for adaptive streaming from a single system
l Save time with out-of-the-box connectivity to leading CDNs with real-time controls for archiving content
l Generate multiple simultaneous HD outputs for the highest quality viewing experience
l Lower operating costs with a reduced harware footprint and easy integration with existing workflows

Why Elemental Live
High Density Encoding
Patent pending technology maximizes the power of a massively parallel architecture to perform high-density video encoding.Simultaneously output a mix of streams at different resolutions and bit rates for multiple delivery protocols.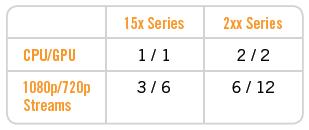 Complete Adaptive Bit Rate Support
Support live adaptive bit rate broadcasts via Adobe, Apple, MPEG-DASH and Microsoft streaming protocols from a single system simultaneously – without the need for multiple units or signal splitting equipment, reducing both cost and complexity.
High Performance Processing
Advanced image processing functions, including anti-alias scaling, MPEG-2 de-blocking and motion adaptive deinterlacing, save cost, improve performance, and deliver quality output.
Real-Time User Controls
Start and stop control of archive streams enables instant creation of high-quality VOD files, saving editing cycles and lowering the cost of content delivery. Real-time controls for audio produce the best possible sound quality. Manual or automatic load balancing fine tunes system performance.
Simplified Integration &Interoperability
Connect to popular CDNs through one-click integration. Publish to multiple endpoints simultaneously for redundancy. Integrate easily into existing workflows with REST APIs. Future-proof with support for upcoming delivery standards including 3D, HTML5 and WebM.
Easy to Manage, Operate and Monitor
Manage streams in real time and automate actions and events for more predictable content. Start, pause, or stop streams for each target destination through the user interface while an event is running for faster publishing of on-demand content.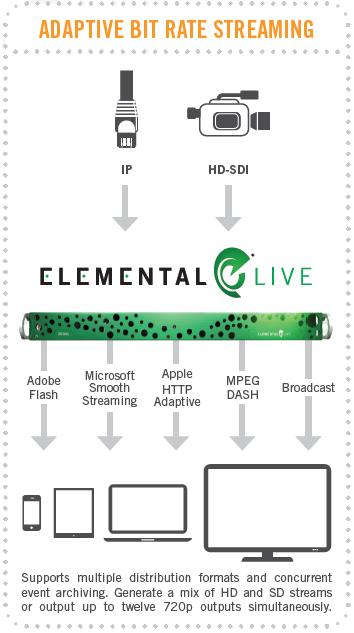 Specifications